GUIDELINES TO CUSTOMIZE YOUR TOWELS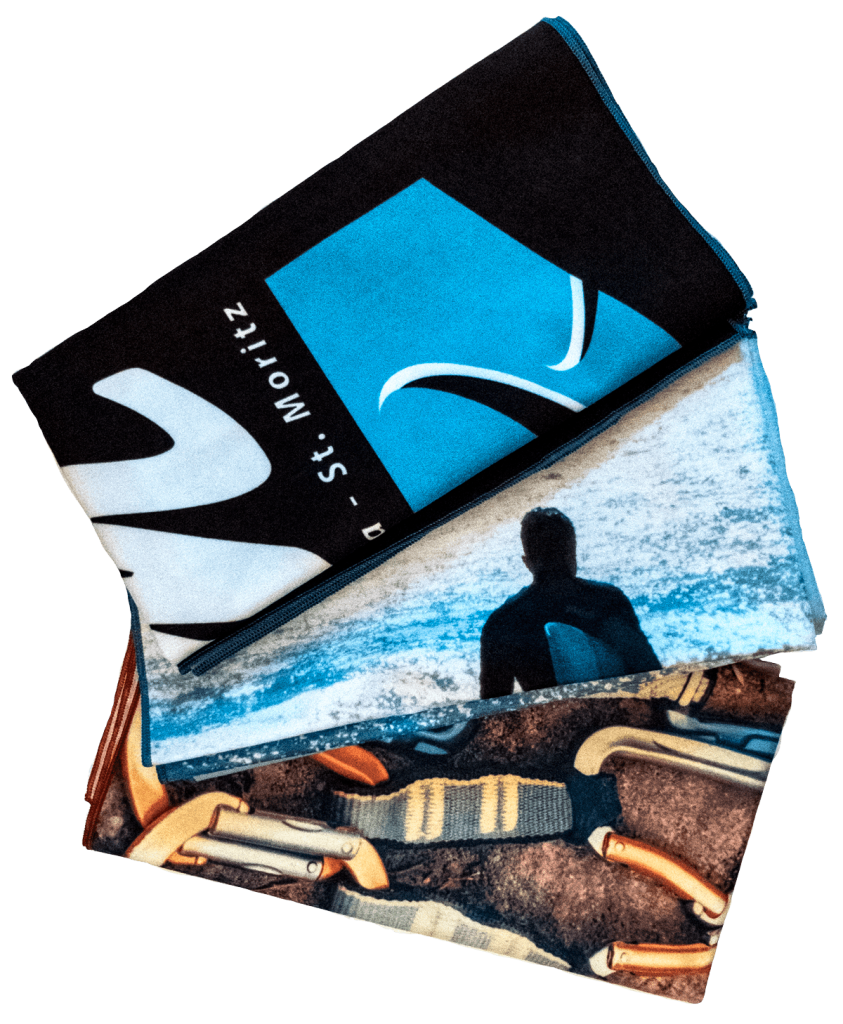 HOW TO CUSTOMIZE YOUR TOWEL
With PimpUp you can print on your towel your image, photo, text, artwork and whatever your creativity will suggest.
IMAGE REQUIREMENTS
To obtain a beautiful towel we need that images are high resolution and high quality. We can print until 300 dpi, though to obtain a good work we can print with less resolution.
MINIMUM REQUIREMENTS
MY OUTDOOR TOWEL (45x75cm )
∼5 Mega Pixel – about 1700x2834px
MY GYM TOWEL (50x100cm )
∼5 Mega Pixel – about 1700x2834px
MY TRAVEL TOWEL (90X150cm)
∼8 Mega Pixel – about 2550x4253px
The quality of the image will affect the good result of the print. Obviously images with higher quality will get better results.

How to send your files – 3 ways:
Using CUSTOMIZATOR
Navigate to our Pimp Your Towel section and choose the format you want ( MY OUTDOOR TOWEL – MY TRAVEL TOWEL – MY POWER TOWEL )
Click on CUSTOMIZE button. It open a window where you can edit your project.
Customizator is easy to use:

With ADD IMAGE you can upload one or more images(jpeg, png, gif). Easily you can resize, move and rotate. To edit, once finished the upload click on the image you want to modify and use the toolbar that appear.
With the button ADD TEXT you can add one or more texts and change fonts, dimension, color, position and other.
With MANAGE LAYER you can move every layer up or  down  over one other layer.
It's important to use all space available. Otherwise the not used space will remain not printed and white.

When finished, click on the green button DONE and you can checkout your towel. You can also reopen you project and edit again.
Use our PSD template for Adobe Photoshop
Are you skilled and you want to made your towel with your graphic tools?
Download our PSD TEMPLATE and compose your towel.
Navigate to Pimp Your Towel section and choose size and quantity and checkout the order. Then send to order@pimpmytowel.com an email with your files and the order number as reference.
Our Customer Service will contact you to confirm the order.
To obtain templates contact print@pimpmytowel.com.
Send your file by email
If you're not comfortable with the technologies but want your personalized towel, send us an email to order@pimpmytowel.com  where you explain which towel you want and attach the picture you want to print. Our customer service will contact you in few day to complete the order.
For more information and question
Contact our print support at print@pimpmytowel.com .